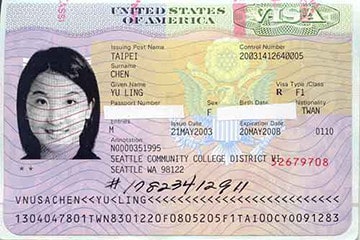 Getting a student visa to study in the United States is somewhat difficult but can be done. Hundreds of thousands of international students receive US student visas each year, most without needing the help of an agent.
We show you how to complete the process in 5 steps: from applying to study, through to entering the USA on your F1, M1 or J1 student visa.
Note: there are links to US government sites that you may need to visit (to fill in online forms or find more specific information for your case).
1. Enroll in an American college
Start the student visa application process by enrolling at a US college or university.
To obtain a student visa for the USA, you must first apply and be accepted to study at one or more American education providers or exchange programs.
Education providers include colleges, universities, institutes, schools and academies. They must be on the certified schools list.
Each institution is able to accept international students on an F1 visa, an M1 visa, or both types.
An F1 visa is the most common and is for academic study.
M1 visas are for training at trade or vocational institutions.
J1 visas are issued to students involved in an exchange program.
Once an education institution accepts your enrolment application, they will issue you with an eligibility certificate.
The Certificate of Eligibility for Non-Immigrant Student Status is a Form I-20, or DS-2019 in the case of exchange students.
The name and date-of-birth details need to match your passport.
2. Apply for a visa
After being accepted by an American education institution and receiving an eligibility certificate, you can apply online for a visa.
All students and exchange visitors need to complete DS-160, the online non-immigrant visa application form for temporary travel to the US.
Consular officers use the information to process the visa application and, combined with a personal interview, to determine eligibility.
Depending on your home country, you may need to pay a small visa application processing fee that is additional to the SEVIS I-901 fee.
3. Schedule an interview, pay the visa fee
Schedule a student visa interview with your local American embassy or consulate.
After completing the DS-160 visa application, you can schedule a visa interview with your local US embassy or consulate.
Embassies and consulates post visa interview waiting times, indicating how many days before the interview can be held.
Visas can be issued up to 120 days (four months) before the scheduled date of departure.
Before a visa can be processed, you need to pay the SEVIS I-901 fee.
It is easier and quicker to pay the fee online via credit or debit card at the SEVIS I-901 fee website.
The fee is $200 for students, $180 for exchange visitors, and nil for spouses and dependent children.
SEVIS stands for Student & Exchange Visitor Information System – the database on which your details are stored.
4. Be interviewed by local visa officials
Student visa interviews by US consular officials are fast if you bring all the required documents.
Visa interviews are often 5 minutes or less. Documents you may be asked to bring along include:
The DS-160 confirmation barcode page (you do not need to print the full application).
A passport valid for at least six months after you enter the United States.
A passport-size photograph.
A receipt for the SEVIS I-901 fee and any country-specific visa processing fee.
Transcripts and diplomas from institutions you've previously attended.
Documented proof that you or your parents have enough money to cover tuition and living expenses for the duration of your stay.
Documentation that you intend to return to your home country after finishing your course of study (such as proof of property or assets remaining in the home country, proof of immediate relatives in the home country, or letters from future employers).
5. Travel to the USA with your student visa
Attach the visa to your passport to gain entry to the United States.
You can arrive as early as 30 days before the start date on the visa.
You are required to report to your institution's international programs office to ensure that you've been officially registered. This should normally be done within 15 days of the start date.
Your institution's international programs office will be able to answer any questions you may have regarding immigration rules, visa or passport renewals, obtaining financial aid, or on-campus job opportunities for foreign students.