The United Kingdom is the 2nd biggest study destination for international students. UK universities are in high demand because of a reputation for quality.
Financial Requirements
Study abroad in the UK is good value by international standards. Tuition fees charged by UK universities are generally not much more than USD $20,000 per year. This compares favourably against the US, Canada and Australia.
You need around $13,000 to cover living expenses for a year of study, at least according to visa requirements. This would easily cover the cost of living at an on-campus residence. Accommodation packages are commonly available for less than $10,000 per year.
Students doing bachelor degrees or higher level study are allowed to work 20 hours per week during term, and full-time during academic breaks. If you have a job offer at the time of graduating, there are also work visas available to allow you to stay in the UK.
Getting a Student Visa for the UK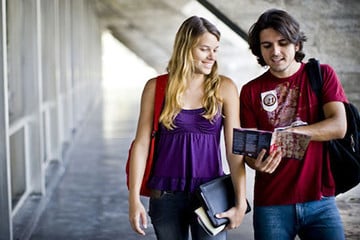 The procedure for obtaining a student visa for the UK is complex because they are many different ways that it happens. The rules vary by country of origin and there are different types of visas. The GOV.UK site has detailed information for each country.
However, generally speaking, you can apply for a UK student visa after being issued with a Confirmation of Acceptance for Studies (CAS). This is issued to you by the university or other education institution that you enrol with (after they provide relevant information to immigration authorities).
After initially applying for a visa, you need to schedule an appointment with your local UK embassy or consulate. By the time of the appointment, you will need to have all your ID, education and other required documents ready.